Why Choose An Online Letting Agent?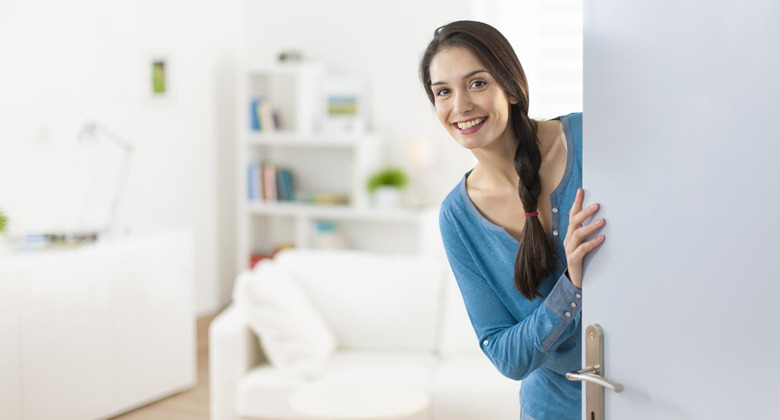 If you're a landlord with a buy-to-let property, chances are that if you haven't already let the property, you're looking for a letting agent. Here's a look at some of the benefits you can expect to enjoy by choosing an online letting agent ahead of a traditional (and usually expensive!) high street alternative.
In this article we will look at:
What is an Online Letting Agent?
Online letting agents, like ourselves here at Upad, do what we say on the tin.
We're a letting agent that operates online rather than from an office on the high street. At Upad we have an ARLA Propertymark-qualified landlord team that are on hand via telephone or email to help with landlords' queries. We might do business online but that doesn't mean we offer you a boring website that's never updated – check out our Landlord Hub resources and our blog – or you receive a template, automated response to your queries.
All our landlord queries are answered in person, with a specific answer or solution to help you be a successful landlord.
How do Online Letting Agents Work?
Similar to high street agents, we will take your property and market it on the UK's biggest property portals, including Rightmove, Zoopla, and Prime Location.
All you need to do to rent out your property is register with Upad, choose the products you want to use – compare Upad's package options here – and we'll advertise your property on Rightmove, Zoopla, Prime Location, and many other UK property portals.
Our aim? Primarily, it is to generate as many tenant enquiries as possible. It's then up to you, the landlord, to arrange viewings at a mutually convenient time and to choose the tenants you want to live in your property.
How do Online Letting Agents Help Landlords?
When Upad, and many other online letting agents, first came to market our aim was predominantly to give private landlords a cheaper, less stressful alternative to using the high street letting agents. This meant that our landlords would be free to take care of the management of the letting and tenancy itself, while we would provide leads and tenant enquiries.
As the market has evolved and we've taken on board feedback from our landlords our role has become more diverse. Today, your online letting agent can be involved as much or as little as you like. Ask us only to find your tenants or use our fully managed lettings service, or be flexible and choose a solution to meet your needs.
If you're a private landlord and you're looking to:
Find tenants quicker
Save significant sums of money vs. using a high street letting agent
And you're happy to take on some elements of tenancy management yourself, then an online letting agent is the solution for you.
What are the Main Differences You'll Notice Using an Online Letting Agent?
Even having read this far you probably already have some questions about using an online letting agent, especially so if you've been using a high street letting agent since becoming a landlord.
Won't a High Street Letting Agent Have Better Local Knowledge Than You?
They might do, and in fact many high street letting agents will cite 'local knowledge' as a selling point if you asked them why you shouldn't take your money to an online letting agent.
Our view is this:
As a landlord, you have already thought about the place where you have purchased a buy-to-let. If you became a landlord to rent to families, you probably already do your homework when it comes to buying near a school, and you know where the local park and shops are.
If you don't know the above, a quick online search can tell you the name of every amenity and business within a mile of any postcode in the UK.
Therefore, having better local knowledge isn't really a plus point. High street agents probably get their information from the internet too!
High Street Letting Agents Have a Shop Front
Hands up on this one; if you want to have a go at your letting agent and storm down to their office, you can't do that with an online letting agent.
At the same time, if you communicate with your high street letting agent predominantly via email and phone anyway, does it really matter that an online letting agent doesn't have an office?
High Street Letting Agents Cost More, But Do I Get More for My Money?
What does your high street letting agent actually do for you?
They found you a tenant and took care of all the administration, but do you get anything for your 10% (at least!) of the rent monthly management fee?
Or is your high street agent being paid not to do anything because your property is in great shape and your tenants have no problems?
Think about what you see when you walk into your high street letting agent:
Branded Mini Cooper parked up outside
Tiled floors
Apple computers
Expensive looking office furniture
These overheads need to be covered, and the costs are coming right out of your monthly management fee.
In contrast, with an online letting agent, unless you opt for a fully managed letting or you need other additional products such as an Energy Performance Certificate or a Gas Safety Certificate, you'll pay for the services you need upfront, and then collect all the rent without paying a monthly fee.
Where is the Value in an Online Letting Agent When I Pay for Services Upfront?
Where you see the value from Upad and other online letting agents depends on the pricing structure you have with your high street letting agent. Historically, many high street letting agents with whom you've agreed a fully managed service would only start taking your money once they've found you a tenant, though when shopping around for a letting agent you should check exactly what they want from you from a financial perspective.
The long-term value definitely rests with an online letting agent.
What's the best financial option for you?
Take out UChoose, pay £149 upfront and then keep all your rent.
Or……
Sign up with a high street letting agent and give up at least 10%, and usually more, of your monthly rent take. See our table at the end to understand how you will see the value with an online letting agent in the long term.
A High Street Letting Agent Will Show my Potential Tenants Around
If you're a landlord without the time to show potential tenants around your property, or you're particularly shy or awkward when meeting new people for the first time, this is where you might find a high street agent a more useful solution.
For landlords where it's purely a time issue, think about what your likely costs are going to be with a high street letting agent.
The long-term savings you will make by using an online letting agent and finding the time to conduct tenant viewings yourself will more than pay for your time commitments.
High Street Letting Agents Will Conduct Regular Property Inspections
Property inspections aren't something many online letting agents generally offer, whereas a high street letting agent will visit and conduct periodic inspections, usually every three months.
If you choose Upad's fully managed lettings service, this can include periodic inspections at a one-off charge of £42 per inspection.
Our view of this is:
A lot of the time high street letting agents don't do much in the way of inspecting, they just tick boxes and leave.
It isn't much hassle at all to arrange your own inspection, and you'll know the property better than a letting agent, so will usually be much more thorough in how you go about it.
Like with viewings, making the time to do your inspection yourself will more than pay for itself with the savings you will make against high street letting agents' management fees.
What Tenant Fees does an Online Letting Agent Charge?
If as a landlord you follow the politics and news of the buy-to-let landscape, you'll already know that tenant fees are going to be banned. If you use a high street letting agent, guess who those costs are going to be passed onto? When your high street letting agent gives you your increased bill once the ban comes into effect at some point before 2020, you'll then have the option to see your profits eaten into or to put up the rent.
Most online letting agents, including ourselves here at Upad, only currently charge the tenant for referencing. This only costs £75, so even when tenant fees are banned the additional cost incurred by you as a landlord will be very little.
In Scotland, where tenant fees are already banned, we have a large number of private landlords who happily cover the cost of tenant referencing.
Can't I Advertise my Property on Rightmove Myself?
In a word, no.
Rightmove, Zoopla, and the other big UK property portals only allow their members – letting agents and estate agents – to post on their websites. Therefore, if you want to completely 'go it alone' you will need to use a site such as Gumtree to directly post your own advert. While this is an option, if you want the largest possible pool of potential tenants, you need your property listed with the big boys.
Feel free to go it alone, but be prepared for fewer tenant enquiries, lower quality enquiries, and longer void periods.
If I Use an Online Letting Agent do I Need to be a Salesman Myself?
Most online letting agents will help you when it comes to writing your property advert. At Upad this is a key element of our service. We want you to find a tenant quickly and know that the quality of your property advert is key to making this happen.
If you're not great at writing words down or feel like you fall into 'letting agent speak' when trying to construct a property ad, let us help you.
When it comes to conducting viewings of your property, we know that many landlords don't use online letting agents because they worry about having to 'sell' their property in person.
Our view is that many potential tenants will switch off as soon as a letting agent starts talking anyway. If there's a prepared brochure they'll look at it, otherwise they just want any questions they have to be answered clearly. Tenants don't want a letting agent telling them a double bed will fit nicely in what is obviously the biggest bedroom in your property, so you can show them round easily and let them work it out for themselves. At the end of the day, if you have a well maintained and presented property, your potential tenant will fall in love with it if it's what they're looking for.
The Benefits of Using an Online Letting Agent are Clear
By choosing to use an online letting agent you'll save yourself a huge sum of money and breathe new life into your buy-to-let profit margins. While managing your property yourself might seem like a hassle when thinking about it, long term you will likely come to realise just how straightforward it is, and wonder why you weren't doing it this way all along.
If You Aren't Convinced, Use Us as a Bargaining Chip!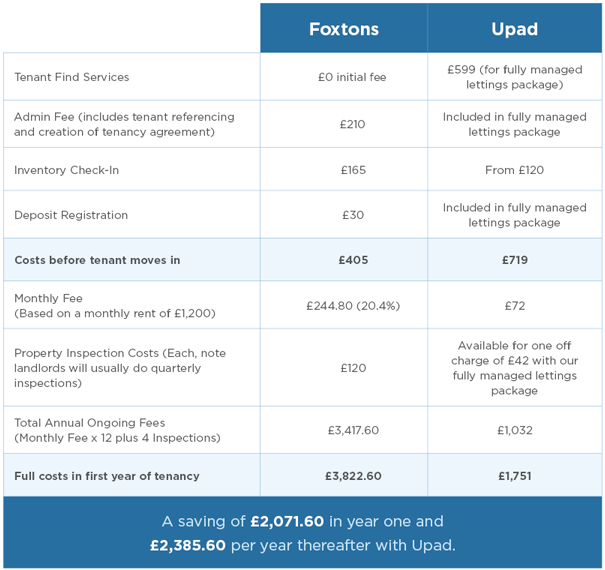 Even if you aren't convinced that switching your tenant sourcing and/or property management to Upad or another online letting agent is the best thing to do, tell your high street letting agent that you've been considering making the switch to get a cheaper deal for yourself.
Write down the potential cost savings – replicate the table below if you need to or even print out this article! – and demonstrate to your high street agent just how much you could save.
Do this quickly by using the Upad landlord savings calculator.
You never know, doing that might even help you to convince yourself!
What is the True Cost Difference Between an Online Letting Agent and a High Street Letting Agent?
Remember we've made this comparison based on our most expensive, fully managed lettings service package.
If you opt for UChoose or UPay On Success, you could save even more!
Even if your high street letting agent is nearer to 10% than 20% when it comes to monthly fees, you're still going to be paying way more than you need to.