Finding Tenants for Free or Professional Service at a Low Cost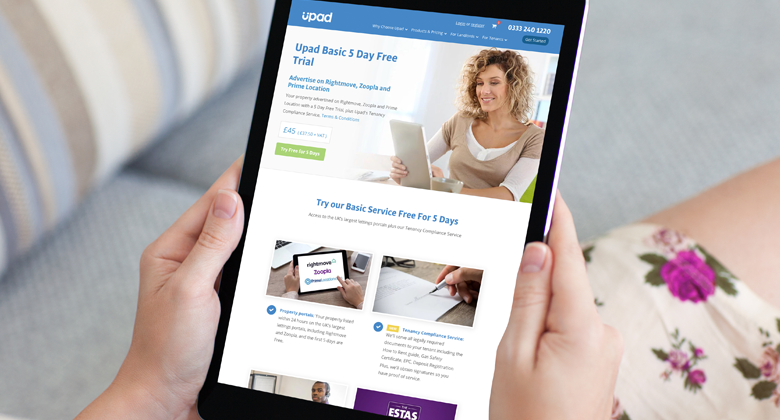 With changes to stamp duty rates and the scrapping of mortgage interest relief due to Section 24, landlords' finances are being hit hard. The best way to mitigate these costs is to look closely at your finances to find a way of reducing overall costs. One of the biggest buy-to-let expenses is for finding tenants, especially if you're using a high-street agent. Luckily, there are plenty of ways you can find tenants for a low cost, and even for free:
Upad- Advertise on Rightmove
We've launched Upad Basic for DIY landlords, who haven't used our services previously. We'll advertise your property on Rightmove, Zoopla and Prime Location for just £45!
You'll have an easy to use dashboard to keep all your property and enquiry details in one place
Consider using extras such as property photography to boost your enquiry level. It's a one-off expense that can last you for years of advertising
You can also use Upad's Tenancy Compliance Service to ensure you comply with the Deregulation Act 2015
Facebook

Using social media to find tenants takes more effort on your part, but comes without cost. Search Facebook for local landlord and tenant groups and you'll be able to post your property details to prospective tenants in the area, and find tenants looking for homes too.
Make sure to be specific when posting a property advert on social media. You'll still need to include as many details as possible otherwise you might end up with lots of calls from unsuitable applicants
Try joining a closed Facebook group like 'UK Houses to Let…. (Private Landlords)….'
Be mindful about sharing personal information across social media, instead communicating via private message before agreeing to a viewing
Gumtree

Gumtree is the long-running classified ad site where you can find anything from mattresses to car parts- even tenants! Gumtree has a property section where many landlords advertise their properties for free to find tenants. Beware though, scammers are known to operate on this site and anecdotal feedback suggests that many applicants can be unsuitable.
If you find tenants through Gumtree, don't skip on the tenant referencing as it's imperative that any applicants are screened before moving in
Be wary of scammers, you can read our article on common scams here
Look out for 'bumping' fees, particularly in London, that push your property ad back to the top of the list- these costs can mount up
Local shops
It may not be the quickest or most reliable way to find tenants but you could always ask local shops if you can put an ad up in their window free of charge. This way you'll target local people looking for a property, and they may even spread the word.
Some shops may charge you a fee but it will likely be considerably less than a high-street agent
Make sure you choose a busy shop! Some tiny newsagents in the middle of nowhere is unlikely to reach many potential tenants
Try advertising in more than one shop at once to widen your target audience
Word of mouth
Again, not the most effective way but if you have an existing tenant giving notice, why not ask them if they know anyone looking? They may even share the property details on their social media, allowing you to reach far more people and at no cost.
As with Gumtree, don't skip referencing! Taking a previous tenant's gospel that they're a good tenant is not enough
Ask a few people if they can spread the word, you'll increase your target audience significantly
Consider using this in conjunction with online advertising, as it's not the most reliable method and may leave you with a void period
If you'd like to try Upad Basic with a 5 day free trial, click here.