Setting Your Price on Rightmove and Zoopla
The start of every tenant's hunt for a new place to live is the search page on Rightmove or Zoopla. Here they will choose the area, number of bedrooms, property type and price band they are looking for before scanning through the results.
Just like Google, being on the first page of those search results is key.
For both websites the default setting is to show the most recent properties at the top of the page then work chronologically.
Many tenants will also have email alerts set up on Rightmove to notify them as soon as a new rental in their area and price band comes on.
Combined, these factors mean making sure everything about your property ad is right first time is absolutely critical. Having the best possible photos, a clear and complete description and the right price will maximise your enquiries during that important first day or two.
A property advert gets the most tenant interest in the first few days of advertising
Upgrading to a Rightmove Featured Listing will also maximise enquiries during this critical period. With a Featured Listing, your property advert remains at the top of the page results for 7 days. A Rightmove Featured Listing is proven to get up to 128% more property advert clicks from tenants (Rightmove data).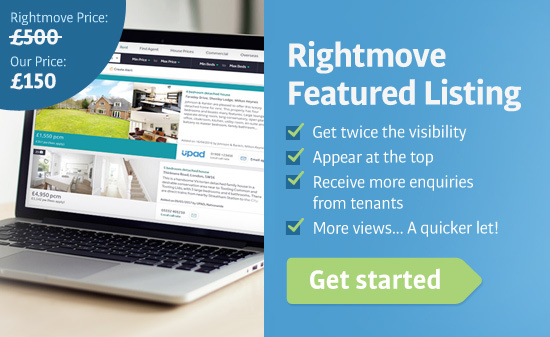 How to set your rental price
Setting the right price is about knowing your market. Looking at similar property to yours on Rightmove and Zoopla will help you understand what the market demands. When you are letting a property it's critical you let the market dictate your decision. You may feel that new kitchen and bathroom means you can change more than others, but if the market says otherwise don't be greedy. Your enquiries will be less and you may end up with a void period or settling for less than a perfect tenant.
It's also important to remember the price bands on Rightmove and Zoopla. A tenant chooses to search between set amounts. If you set your monthly rent on exactly where the price band changes your property will be seen by those searching in both budgets.
Our ARLA Propertymark-qualified Account Managers can help you set the right price before you look for new tenants. Give them a call today on 0333 240 1220 to find out more.