A Landlord's Guide to Decorating a Rental Home
Over the coming years, the UK could see a 33% rise in the number of private rentals. Currently 16.5% of residential properties are private sector rentals. By 2020, it's estimated that private rented property could make up to 20% of all UK homes.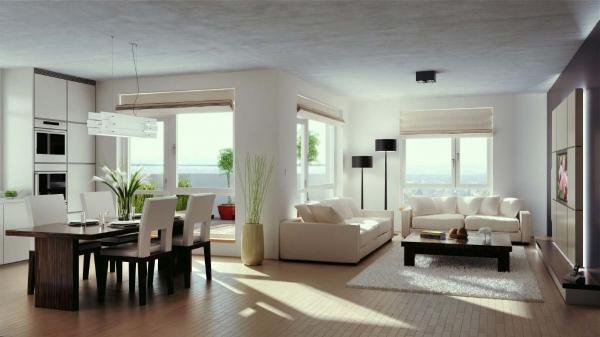 A recent report from Halifax found that one in five 23 to 27 year olds say they don't want to own their own homes, they simply don't have enough cash coming in and they're not prepared to live in poor-quality rental homes while they try to save for a deposit.
It seems Britain could well become a nation of renters, which gives plenty of scope for buy-to-let landlords but it also means that competition is high; therefore landlords need to up their game when it comes to the quality of their rental properties.
Much like the housing market, the way a rented house or flat is decorated will heavily determine the interest it receives from potential tenants. As landlords you need to make sure your rental property is presentable, inviting and is decorated to a high quality.
Here are a few ways to finish and furnish your property to help you gain a better return on investment:
Decorating Your Property
It's well-known that rental properties should be decorated using neutral colours, this not only creates the illusion of more space it also means you're avoiding bold colour schemes which could potentially put people off.
The downfall of using neutral colours is that it's difficult to keep walls clean and they can soon look murky and dirty if they're not looked after properly by your tenants, and as they don't own the house it's likely they won't be too invested in taking care of the paintwork.
To help combat these problems, try to use a silk finish, rather than a matte paint as this will allow you to wipe down the walls in between tenants. Also look to purchase high durability paints, these contain latex or acrylic and will help protect your walls and door frames from the inevitable knocks, cutting down on remedial work.
TIP: Magnolias and creams are ideal for living spaces but make sure door frames, doors and skirting boards are always painted white for a smarter finish.
Flooring Options
When it comes to flooring you need to decide between buying good quality flooring that will last longer or choosing a cheaper option and changing this again a few years down the line.
Living spaces and dining rooms are ideally suited to laminate, food and drink spillages are inevitable in these areas and laminate is much less likely to stain than carpet. Invest in good quality laminate, take a look at the range Posh Flooring have to offer, a durable and hardwearing laminate is key.
For kitchens and bathrooms, tiles are the best solution but it can also be the most expensive option – a good quality lino that isn't going to tear or scuff is the next best thing. When it comes to the bedroom, laminate is an option; however carpet is the most comfortable. Again, you need to decide whether you choose a good quality carpet that you have professionally cleaned every year or so, or you choose a cheaper option that you'll need to replace every two years. Budget carpets don't cope with industrial cleaning very well, lowering their life span.
To Furnish or Not
It's entirely up to you as the landlord to decide whether you furnish a property or not, however it's always a good idea to provide white goods as these can be expensive outlays for first time tenants and will definitely increase your chances of letting the property.
If you do decide to furnish your rental property then the furniture you add must be good quality and fairly new; shabby, old fashioned furniture will not help you case. Always remember that any furniture you bring into the property must comply with fire safety regulations.
If you rental property looks great and is of a really high quality, although this will have initially cost you money, it will lead to a higher calibre of potential tenants, of which you can choose the very best. Reliable, responsible tenants who are happy with their living arrangements are more likely to stay, minimising the time your property is left empty, increasing your ROI.