Upad or OpenRent?
Which online agent should you choose? Upad or OpenRent?
Most UK landlords know it really comes down to two main players: Upad vs OpenRent. There are endless debates and discussions online such as on the RLA 'Upad or OpenRent', also on Property Tribes 'What is best Upad or OpenRent, even on Money Saving Expert 'Upad vs OpenRent'. and now on Property Investment Project.
Upad vs. OpenRent: Customer Service to Landlords
OpenRent have a customer service line but you'll have trouble finding it as they don't promote the number on their website, they mostly communicate via email. This can be frustrating if you want to sort something quickly by speaking to someone directly. OpenRent offer advice on improving your property advert and enquiry levels but this is through automated email tips or information on their blog, which won't necessarily apply to individual circumstances.
Upad promote the ethos 'we're here when you need us', which translates to a customer service team available 7 days a week from 8am to 8pm. Upad also offer a personal Propertymark-qualified Account Manager to manage your account, you'll speak to them when you call in and they'll know your details and property. If you are struggling to let your property, your Account Manager will give you tips and advice personalized to you and your property.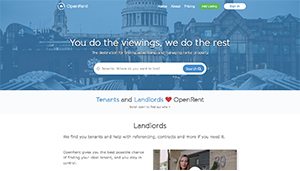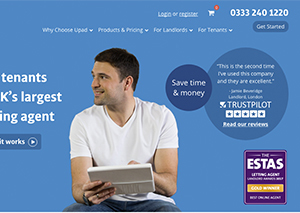 Upad vs. OpenRent: Use of Technology
OpenRent have an automated, prescribed solution that requires landlords to follow a templated process. The system allows landlords to receive tenant enquiries directly, instruct referencing and draft a tenancy agreement. In fact, everything is done online, which can cause issues if you have queries before ordering a service. They can also register the deposit and collect the first month's rent- although be aware that they withhold the latter for the first month of the tenancy, which could cause cash flow problems.
Upad offer a semi-automated system but with personal contact via phone and email- allowing you to ask any questions before purchasing a service. You can also instruct referencing, create and sign your bespoke ARLA Propertymark-approved contract, register the deposit and collect the first month's rent. Unlike OpenRent, you, and your tenant, will receive phone calls throughout the process to ensure everything is correct. Plus, the first month's rent is transferred directly to you within 3 working days of payment.
Upad vs. OpenRent: Landlord Reviews
OpenRent have a score of 9.4 out of 10 on Trustpilot from over 750 reviews. Most reviewers highlight the low cost and quick let time in praise of OpenRent. Some criticisms have included the downsides of a fully automated system, which can lead to some properties not being advertised, or leaving landlords confused about the progress of a service, plus delays in an advert going live.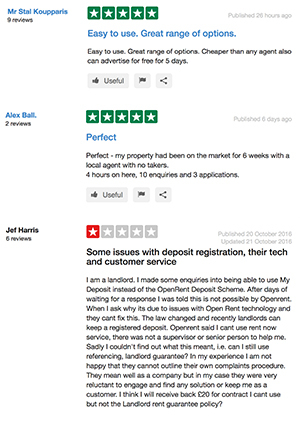 Upad have a 9.3 Trustscore from over 1,000 reviews, 850 giving 5* ratings, and many citing the excellent customer service and easy to use console. Many reviewers have used Upad several times to let properties and give a glowing review of the process. Some have criticized Upad when they've encountered technical issues, although it is pointed out that they are swiftly resolved by the dediated team.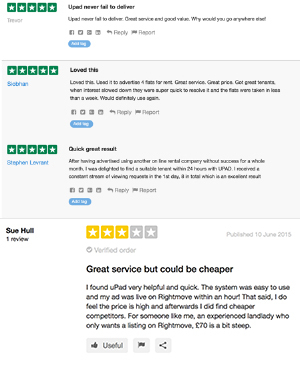 Because of their experience with Upad, landlords across the UK have voted Upad the 2017 Best Online Letting Agent at the ESTAS awards.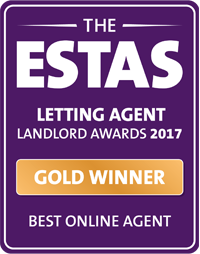 Upad vs. OpenRent: Landlord Products
OpenRent offer free advertising for their site only, and prices are around £30 to advertise on Rightmove and Zoopla with a 5 day free trial period. They also offer tenant referencing (paid by the landlord), EPC's, Gas Safety checks and inventories. The prices are competitive but the processes are automated so can cause problems if a technical issue arises.
Upad offer packages starting from £120 for advertising on Rightmove and Zoopla, and offer slightly pricier packages that include the full tenant sign-up service and professional photos with a floor plan. Upad appear to be adding to their services, offering Rightmove Premium and Feature Listings for an added boost- with their research showing these can increase enquiries by more than 120%.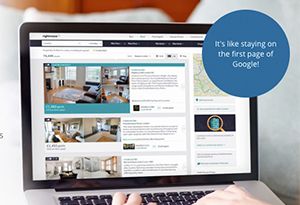 Upad vs. OpenRent: How it Works for Tenants
OpenRent do not allow landlords to charge any referencing or administration fees to tenants, but offer this for an additional £20 paid by the landlord. Critics of OpenRent don't like being unable to charge fees for reasonable costs incurred in setting up the tenancy, even with the low cost. This may lead to unsuitable tenants applying because they have no financial stake at risk should they fail referencing, and could lead to longer void periods for landlords if they need to start the process again.
Upad don't charge landlords for referencing and charge tenants £75 each. With tenant fees at high street agents averaging around £300, many tenants appreciate the lower Upad fees. Tenants are also able to speak to the customer service team to talk through the Upad referencing process and ask any questions. The landlord is also kept informed with daily updates via phone and email.
Upad vs. OpenRent: Knowledge of the Rental Market
OpenRent have an easy-to-use website with a blog that covers relevant and topical issues such as gas safety, tenancy agreements and EPC regulations- although they post infrequently. They also offer advice via email, but these are limited to automated content unless you contact the team with a specific query.
Upad also have a blog, covering similar issues, and has been voted the number 1 UK blog for landlords. They also offer a Hub with articles, infographics and videos as well as a wide variety of free downloadable guides. James Davis, Upad's CEO, also regularly hosts free webinars covering topics such as tax, legal responsibilities and how to conduct viewings- often joined by representatives of landlord associations, landlord magazines, tax experts and accountancy firms.