How Does Upad Compare to Other London Letting Agents?
When landlords switch to using an online letting agent, they have the opportunity to save a fortune in costs, thus increasing the profit they make from their buy to let business. This is one of the biggest reasons why private landlords switch to an online letting agent.
We previously compiled a comprehensive guide to online letting agents and their benefits, which you can access below. To learn exactly what you might be able to save with Upad, keep on reading down the page.
Why Choose an Online Letting Agent?
How Much Can Upad Save Landlords Versus London Letting Agents on the high street?
For landlords that are primarily cost driven - as many of them are - there are significant savings to be had. To outline the size of the savings opportunity, we've taken a look at how our landlord costs for fully managed lettings compare to a selection of London's most popular high street letting agents. All costs have been sourced from each letting agent's website, and prices are correct at 27th July 2017.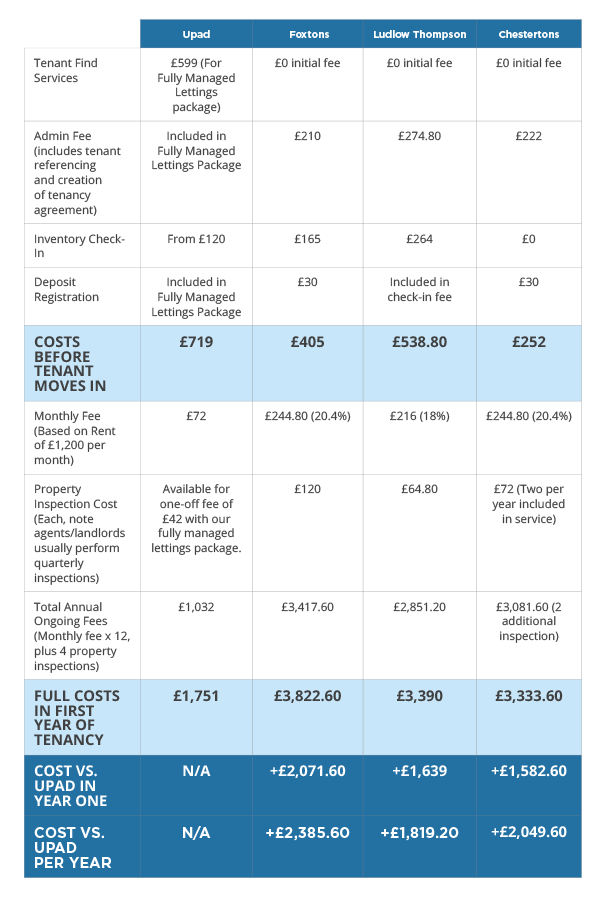 As you can see, by switching to using Upad you could easily save in the region of £2,000 per year, which is more profit and more capital you are able to reinvest in your buy to let business. When you let your property with Upad, we'll help your tenants save money, too. With Upad tenants only pay for their referencing - unless they're in Scotland, where they won't pay anything - which will also help to make your rental more attractive than if you advertised with a high street letting agent.
Remember also that these savings are based on our fully managed lettings solution. If you chose to self manage you'd pay less than £599 upfront and not have any on-going costs. While a high street letting agent's fees will likewise decrease if you don't opt for the fully managed option, you'll still be paying a monthly fee of at least 10% of your rental income, whereas when you self manage with Upad you pay nothing on a regular monthly basis.
Increase Your Buy to Let Profits Today
If you're looking to make significant savings and increase your profits from your buy to let business, sign up and start using Upad today. Check out our full range of products or register below.