Guide to Assured Shorthold Tenancy Agreements
As a private landlord, the assured shorthold tenancy agreement is your opportunity to ensure both you and your tenant fully understand what is expected of each party, and to ensure that you are both covered in a fair manner, during the course of a tenancy.
This guide has been put together by Upad to tell you everything you need to know about assured shorthold tenancy agreements.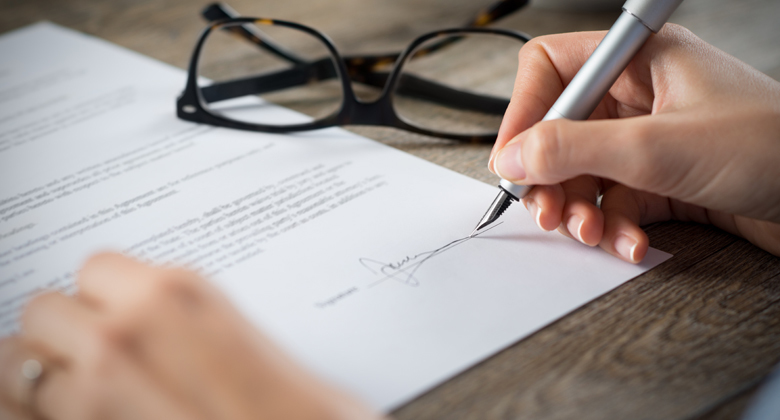 What is an AST?
The assured shorthold tenancy agreement – you will often see this abbreviated to AST - is the legal contract between a private landlord and a tenant. If you're a landlord or a tenant who lets through, or from, a traditional high street letting agent, then they will be named on the contract and may be specifically mentioned in certain sections of it too.
An AST contains all the terms and conditions of a tenancy. These terms and conditions range from the obvious things that feature in all of them, such as the length of the tenancy, the deposit paid, and the monthly rent, to specific guidelines that may include whether pets and smoking are allowed in the property. When it comes to the specific guidelines in an AST, the landlord can choose to include as little or as much as they wish, though they must ensure all the terms included are fair and legal.
What's in an AST?
An AST should include all of the following details:
Full names of all parties (adults only if a family is moving in) who will be living in the property.
The address of the property.
Start date and end date (if there is one) of the tenancy agreement.
The monthly rental amount (or weekly or four-weekly, for example, if not monthly) and how the tenant should pay the rent. Getting the tenant to set-up a standing order is the best option to ensure you always receive the rent on time.
Whether the rent is to be paid in advance or at the end of the month.
List of bills related to the property and who is responsible for paying them. This will usually be the tenant, but ensure it is clear in the AST as you don't want your tenants to move out leaving you a council tax or utility bill that you must pay and are legally unable to reclaim.
Notes on how and when the rent will be reviewed. If possible, it should give specifics around rent increases.
The deposit amount paid by the tenant, and where it has been protected.
Reasons why some or all of the deposit may be withheld at the end of the tenancy.
Clarity on landlord and tenant obligations.
The circumstances under which the tenancy may be terminated early. If it is a long-term tenancy this may be where landlords include a break clause, as well as terms about rent arrears and unsatisfactory upkeep of the property.
Terms and conditions regarding sub-letting of the property.
Landlord specific conditions related to smoking, pets, or anything else.
Finally, the tenancy agreement should be signed and dated by all parties. Some, but not all, landlords and letting agents will require the bottom of each page to be signed.
While, as we've noted above, clarity around landlord and tenant obligations should be included in an AST, sometimes specific clauses are implied as they are given by law. The most common implied terms and conditions include:
The landlord must carry out property repairs in a timely manner.
The landlord must maintain installations that supply water, gas, electricity, sanitation, and heating.
The tenant must be able to live peacefully in the property without being harassed by the landlord.
The tenant must take proper care of the accommodation, and report any required repairs at the earliest opportunity.
It's also useful to have a clause that tells the tenant to let the landlord know who the utility suppliers are at the end of the tenancy. This avoids landlords waiting for a bill to arrive or not knowing who to inform that the property is vacant.
We take a closer look at some of the implied clauses and what they mean here., while we have also put together a guide on which clauses you might want to explicity include in your AST.
If you are a landlord and you let your property with Upad, our ARLA Propertymark-qualified landlord team can help put together your AST and will ensure it is correct and of good legal standing.
How Do I Get an AST?
Today you can get an AST from loads of places, and unsurprisingly the internet is a hugely popular source. A quick search for the phrase "assured shorthold tenancy agreement template" in Google gives over 29,000 results, with AST's available in a wide variety of formats, from a one-pager to something longer that resembles War and Peace.
In reality, it doesn't matter if your AST is one page or 101 pages. The important thing is that it includes everything you need it to. With that in mind, private landlords ought to be careful when sourcing AST's online, especially from websites that provide free templates and aren't actually linked to or have any expertise in the property rental or legal industries.
The problem with most of the free AST's you can find online is that they include some or all of the following:
Out of date, or irrelevant, terms and conditions based on legal requirements.
Poor formatting, making them impossible to follow and understand clearly.
Terms and conditions that aren't enforceable by law.
While the last point above can occur within AST templates found online, it more often occurs when private landlords themselves add their own terms that aren't fair, clear, or legally enforceable.
While private landlords may think they're being clever by including various terms and conditions, not having a legally enforceable AST can be an expensive business, and may mean a landlord cannot legally serve a Section 21 or Section 8 notice should they wish to regain possession of the property.
Does Every Rental Property Need an AST?
No.
While an AST should be used when a property is being rented either to an individual or to multiple tenants such as a family – houses of multiple occupation require a different type of agreement – an AST is not always suitable.
Times when an AST should not be used include:
If the annual rent for the property exceeds £100,000 per year
There is no rent payable on the property
When the property is a holiday home
If the property is let to a private limited company
When the property is owned by a Government department or the Crown
If it is an agricultural tenancy, or the property has more than two acres of agricultural land included in the let
Read our blog about different types of tenancy agreement, our check out our guide on choosing the right type of tenancy agreement.
Do I Need a Written AST?
Believe it or not, it isn't actually a legal requirement for a written AST to exist. An oral agreement is considered to be binding!
It's pretty obvious what the problems might be if you don't have a written AST. As soon as something is disputed, how can either party prove what was or wasn't agreed? While the tenant can provide bank statements that show the payment of a deposit and rent – and even then we're assuming the landlord hasn't asked to be paid in cash – which may afford some legal standing and protection, it's going to be difficult to prove a point either way.
While you don't legally need to have a written AST, you need to question whether not having one is really worth the hassle.
Ensure you have a written AST. If you do have a dispute you at least have a basis for starting to find a resolution.
We've taken a closer look at whether you need a written AST and some other AST myths in this blog post.
Who Should Have a Copy of the AST?
Just as there is no legal need to have a written AST in place, there is nothing from a legal perspective that states who should have a copy of a written AST, either.
However, common sense dictates that both the landlord and the tenant should have their own signed copy of the agreement.
How Long can an AST Last?
An AST can last for any duration, although tenants have a legal right to stay in a property for a minimum period of six months, regardless of whether the AST was for a shorter term than this.
At the end of the period specified in the AST, if the contract is not renewed it then becomes a Statutory Periodic Assured Shorthold Tenancy Agreement. This means that the terms of the AST still apply, but the tenancy continues on the basis of the rent schedule. As most tenants pay their rent monthly, this means these AST's become monthly periodic tenancies.
We've looked at the dangers, but also the potential benefits, of a periodic tenancy in this blog article.
There is also a Contractual Periodic Tenancy. With these agreements, no end date for the let is set, and the contract and terms remain valid until either party terminates. While contractual periodic tenancies may have their benefits for both landlords and tenants depending on their circumstances, usually both parties prefer the security of having an AST in place and renewing this each time it is approaching its expiry date.
Whatever the status of the tenancy, landlords remain legally required to issue a Section 21 notice and give two months' notice should they wish to regain possession of the property, unless they have grounds to serve a Section 8 notice.
You can read our advice for when you need to evict a tenant here.
The below flow chart is featured in that article, and will help you to understand the role of the AST when you need to evict a tenant.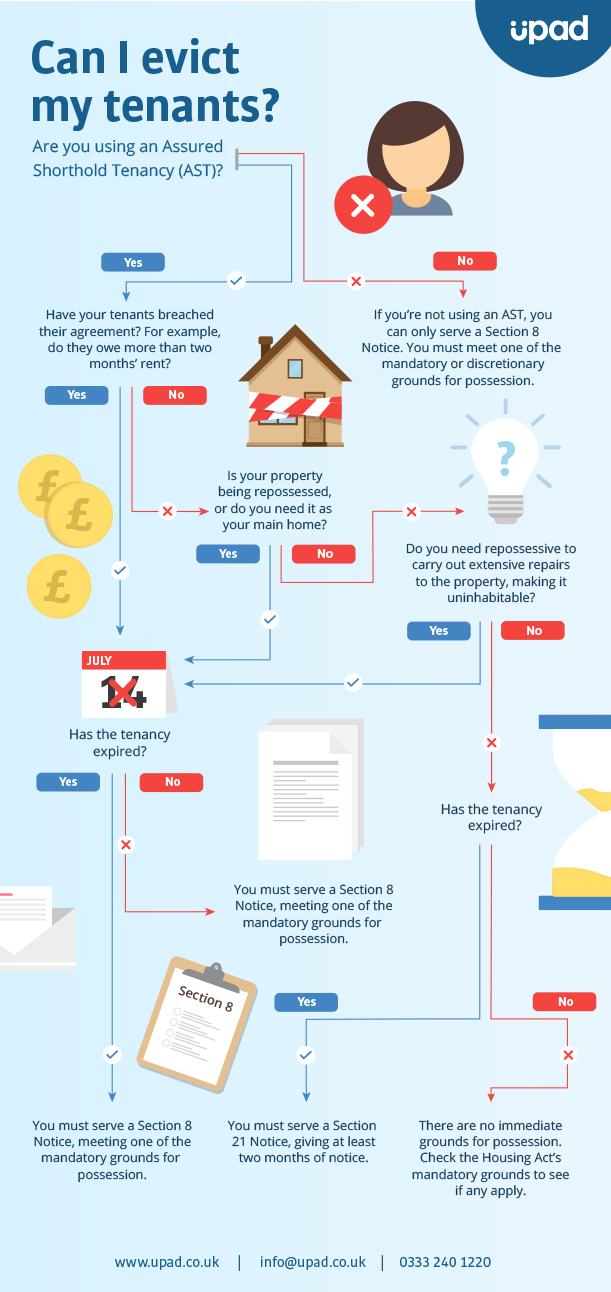 Renewing an AST
In the event that the AST is to be renewed, both landlord and tenant simply need to sign new contracts.
Changing the Terms and Conditions of an Assured Shorthold Tenancy Agreement
The terms and conditions of an AST can be changed on the basis that both landlord and tenant agree to the changes.
Changes to an AST should be made in writing and can be done by either:
Providing a fully updated version of the previously signed AST, for both parties to then sign and date once more, although the contract in general will remain effective from the start date.
Writing an addendum to the existing tenancy agreement.
If landlords do the latter, they can then provide a contract with the new terms and conditions when the AST is due to be renewed.
Landlords cannot raise the rent during the initial fixed term of an AST unless a mutually agreed clause has been inserted into the contract. If the contract then becomes a periodic agreement, the landlord can increase the rent providing notice is given equal to the regularity of the rental payments. As noted earlier, landlords should state in the AST if the rent will be reviewed prior to renewal of the contract.
If there's an oral agreement, the changes are oral, too, although again the only evidence you'll have of a change taking place is if there is a different rent amount being paid from the tenant to the landlord each month.
Landlords should remember the requirement to be fair and clear when making any changes, and should take legal advice to ensure the new terms and conditions being proposed are legally enforceable.
Protecting the Tenant's Deposit
Landlords in England and Wales are legally obliged to ensure their tenant's deposit is protected by one of the three government approved schemes.
These are:
There are separate tenancy deposit schemes for Scotland and Northern Ireland.
Deposits must be protected within 30 days of the money being received, and the tenants must be given full details including the prescribed information related to the scheme where their deposit has been protected.
Failure to protect the tenant's deposit can lead to landlords being heavily fined, and also means that a Section 21 notice cannot be legally served on a tenant.
Deposit registration and protection is included in UPay On Success and can be added to your UChoose package.
We cover this topic in more detail in our Definitive Guide to Tenancy Deposits.
Ending an AST
While a landlord has the right to repossess their property at the end of the tenancy, they must follow the correct legal procedure in order to do so, which means issuing a Section 21 notice.
Landlords by law must give tenants two months' notice to vacate a property. Landlords cannot simply turn up on the last day of the tenancy and expect to find the tenants moving out! It is also not acceptable for a landlord to send a letter stating that they require possession of the property on the end date of a tenancy. A Section 21 notice must be served.
It was previously fairly common practice for landlords to issue a section 21 notice on the first day of a tenancy, thus letting tenants know in advance they would not be renewing after six months, but this is no longer allowed. However, there is nothing to prevent landlords from having a conversation with tenants anyway and letting them know they won't be renewing – even better if landlords can make it clear they are only looking for a tenant for six months when advertising their rental.
Discrimination in AST's
Landlords must not discriminate against tenants based on gender, disability, religion, sexuality, or race, and it is against the law for landlords to:
Offer a property for rent on worse terms to some tenants than others.
Treat the tenant differently regarding the use of specific facilities of the property, such as the garage or the garden.
Evict or harass the tenant based on gender, disability, religion, sexuality, or race.
Refuse to make reasonable changes to terms and conditions in an AST that would allow a disabled person to live in the property.
Discrimination against gender, disability, sexuality, or religion is not actually illegal if you're a live-in landlord – i.e. if you're a female live-in landlord and you'd feel more comfortable living with other females, and advertise your rental as such, you cannot be charged with an offence – but discriminating on the grounds of race is.
Understanding AST's
You now know everything you need to know about AST's!
If you have any queries that we haven't answered in this comprehensive guide, get in touch with us at [email protected] or call 0333 240 1220.
If you need an AST these are available as part of our tenant sign-up service within our UPay On Success package, and can be added to a UChoose package.