The Ultimate Guide to Gas Safety for Landlords
Gas safety is one of those things that's easy to forget about. Some people don't even forget about it, they just don't think it's that important. After all, what's the worst that can happen?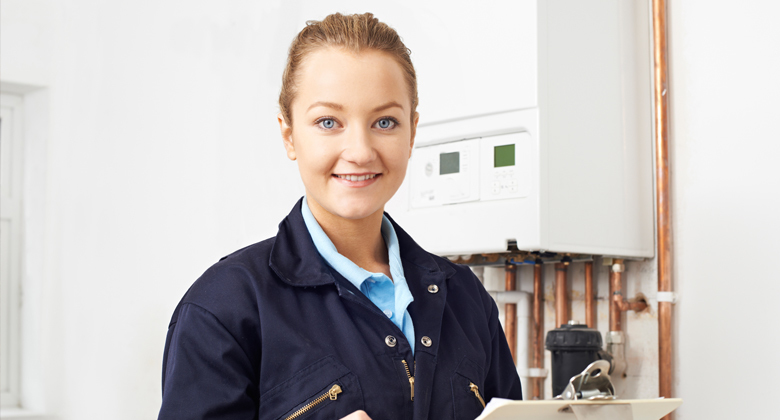 Back in 2015, the Gas Safe Register website said,
"Gas Safe Register has found dangerous gas appliances lurking in one in six of the 142,000 homes it has inspected in the past five years. These dangers have led to six deaths and more than 300 injuries in the last year alone."
Gas Safe Register also states that around 1 in 6 UK rental homes has an unsafe gas appliance.
Despite the law stating landlords could face a fine or imprisonment through failing to ensure the gas safety of their properties and of their tenants, many landlords are still guilty of not fulfilling their obligations. One problem that stops many landlords in their tracks is that the UK Government's Gas Safety (Installation and Use) Regulations aren't the clearest or easiest pieces of legislation to follow.
With that in mind, we have produced this easy to follow guide that will make it clear exactly what you need to do.
If you want less detail and quick answers, you can skip to the end where we've included a handy Q&A on gas safety certificate issues.
What are My Gas Safety Obligations as a Landlord?
As a landlord, you need to take some basic steps to ensure you're fulfilling your legal duties to your tenants, as well as preventing any potential damage to your property which could end up costing thousands to repair.
The law states that as a landlord, you must:
Maintain pipework, flues and gas appliances in a safe condition
Ensure an annual gas safety check is carried out on all gas appliances and flues
Keep a record of the annual gas safety check
Provide a copy of the gas safety record to your tenants
The responsibility lies with you to ensure the gas safety check is carried out, and a Gas Safe Registered Engineer must conduct the check. It is important to note that this may not be your usual gas man or plumber that deals with your regular gas maintenance issues; check that they're registered and legally able to perform the gas safety check!
As a landlord it is worthwhile signing up the Gas eBulletin published by the Health & Safety Executive (HSE), as this will ensure you're always ahead of the game when it comes to your gas safety obligations.
Let's now breakdown your responsibilities relating to gas safety further, so you are fully aware of exactly what you should be doing.
Maintain Pipework, Flues, and Gas Appliances in a Safe Condition
As a landlord you have to make sure that any appliances and fittings you provide are kept in a safe condition, which includes servicing and any repairs that have to be done. Instructions for this can normally be found in appliance manuals, but failing that, it's recommended you carry this out once a year.
Some gas safety engineers will carry this out as standard when they conduct the gas safety check – indeed the HSE recommends this is the procedure so reduce hassle and ensure it gets done - although you are not required to keep a record that the maintenance has been carried out, it is worth having some sort of notice that this has been done. On top of this, remember to keep your invoices and records of any repair work or replacements that have been completed. You will have these for your expenses and tax records anyway, but it is worth having a duplicate to hand just in case you ever need to answer any questions about gas safety or you have a tenant issue.
Ensuring Pipework is Maintained
You have to maintain all the pipework running from the meter to the appliances. You're not legally responsible for the pipework running outside the building (from the meter to the gas provider) just the ones that come into the house.
The HSE recommends that your gas safety engineer:
Tests the soundness of the whole gas system, including the pipework that you aren't legally responsible for, as at least you can notify the relevant authority if there is a problem with it.
Visually examines the pipework so far as is reasonably possible.
Ensuring Appliances and Flues are Maintained
You're responsible for a regular inspection of appliances and flues and the repair of any damages found.
In general, this inspection should include:
An examination of the physical condition and safe functioning of appliance(s), installation pipework, ventilation and any flue for deterioration
Carrying out performance tests and a service on said appliances and flues
Taking the necessary remedial action
You're not responsible for maintaining appliances owned by the tenant but you may be responsible for any pipework connected to it.
While annual servicing and checks are enough for most appliances, you should be aware of what the manufacturer recommends and arrange for any additional checking to be completed on top of your annual ones.
Annual Gas Safety Inspection and Record Keeping
You have a legal duty to perform an annual gas safety check on each appliance and flue you supply in the property. If there are any faults found during the check, you must fix it as soon as possible and stop your tenants using it until it's fixed. You then have to document all of this in the landlord gas safety record.
What is the Landlord Gas Safety Record?
The Landlord gas safety record is where you document the results of the annual gas safety check. The document can look something like this:
This record should include:
Details of the person carrying out the check (including name, registration number and signature)
The name and address of the landlord (this can be a 'care of' address with the letting agent's location if you use a high street agent)
Details of the appliances and flues that have been checked (including location and dates checked)
Any faults that were found and details of repairs made
The address where the appliance and fittings were installed and are being checked
Once you've done the checks, you should provide a copy of the record to your tenant within 28 days of the check being completed. The Gas Safety Record pad has three colour coded sheets, with one each for the engineer, landlord or agent, and tenant, so the best thing to do is just ask the engineer to provide it to the tenant at the end of the check when they will view the sheet, be told of any issues they need to be aware of in the short term, and sign to acknowledge the check has been done. By law you have to hang on to these records for at least two years. In the case of a new tenant, make sure they have this before they move in. You don't have to do a new one for them. If the current one hasn't expired, you can give them a copy of that one and undertake a new check when the date is due.
Gas Safety Certificate Q&A
What is a Gas Safety Certificate?
The Gas Safety Certificate, or the Gas Safety Record, is a document that confirms your gas safety check has been performed on all gas appliances in the property you are letting by a qualified, registered gas safety engineer.
An image of a Gas Safety Certificate has been included below for your reference.
The purpose of the document is to highlight that all the gas appliances in the property are safe to use, and to highlight any work that has been done to make appliances safe, and any future work that needs to be completed.
What Gas Appliances Need to be Checked?
Any gas appliances you have provided in the property must be checked. In many cases this will mean just the boiler, oven, and cooking hobs, though each property may be different.
While it is not your responsibility as the landlord to check any gas appliances the tenant has brought into the property are gas safe, you may ask the tenant if they are happy for engineers (or insist they allow them!) to carry out these checks at the same time.
After all, if a tenant's gas appliance is unsafe and causes the house to catch fire, you're the one who'll have the stress of organising your building insurance to fund the repairs later.
Do I Really Need a Gas Safety Certificate?
Yes, it is a legal obligation. Failure to undertake an annual inspection can leave you facing a fine or imprisonment.
If you don't have a gas safety certificate, or have not provided it to the tenant, you cannot legally serve a section 21 notice, either.
How Often Does an Inspection Need to be Carried Out?
It's an annual inspection, so once every 12 months.
You don't need to provide a new gas safety certificate when new tenants move in, you simply provide a copy of the most recent completed record.
What Happens to the Gas Safety Certificate?
The Gas Safety Record pad held by the gas safety engineer contains three copies; one each for you, them, and the tenant. You must provide the tenant's copy to them within 28 days of the inspection being completed. Ask the engineer to give the tenant their copy on the spot so you don't forget and find yourself unable to issue a section 21 notice or in legal hot water later.
I am a Portfolio Landlord, Do I Need a Gas Safety Certificate for Every Rental Property?
Yes. A Gas Safety Certificate is specific to a property, not to say a landlord complies with regulations in general.
How do I Get a Gas Safety Certificate for my Property?
You can call Gas Safe yourself on 0800 408 5500 to find a registered gas safety engineer in your area.
Alternatively, get Upad to take care of this for you and save yourself the hassle. Our gas safety inspection service costs only £99 and includes arranging your gas safety engineer to attend (they will contact you to arrange a suitable time, you can ask them to contact your tenant directly if you wish, too), your inspection and delivering your completed gas safety certificate. We'll also contact you before the expiration date so you can arrange for your next inspection.

I Have a Regular Gas Man, Can He Issue the Gas Safety Certificate?
Not always, as they may not be qualified to do the inspections, or be a registered engineer with Gas Safe.
What is a Gas Safe Registered Engineer?
A Gas Safe registered engineer has been vetted by Gas Safe to ensure they are adequately qualified to carry out a gas safety check. All gas engineers should have an ID card that highlights the type of work they are qualified and registered to undertake. If you've had a bad experience with a gas engineer in the past ensure you take their licence number, and/or ask your tenants to ensure they view their ID before they complete the inspection.
It is good practice both for you and your tenants to insist on seeing ID before any type of gas work is carried out on your property at all, particularly if you are using an engineer or gas company for the first time.
What if a Tenant Refuses Access to the Property for a Gas Safety Inspection?
If they're refusing access because they haven't seen the gas engineer's ID or weren't satisfied with it, that isn't really a problem, unless they're being overzealous and unreasonable about it.
If they're being difficult and are flat out refusing access to the property, then this is a problem. As gas safety is so important and the onus falls on you as the landlord to ensure the necessary work has been done, you need to ensure that you take action and cover yourself at all times.
You do need to give your tenant 24 hours' notice for a gas safety engineer to attend the property, and they must agree to the inspection. There are some actions that you can take to try and get the inspection completed if you're still facing difficulties:
Send three separate letters to the tenant insisting that access is granted so the gas safety check can be completed. Allow the tenant 14 days to respond – and mention you will follow up in the letters. It is also worth sending the letters as 'Signed For' deliveries so you can see exactly when they arrived and prove this later if you need to.
Try to get someone in a position of authority to speak with your tenants and explain the importance of the gas safety check. Someone from the council is a good bet, if you can get hold of them! Whoever you use, ask them to explain that the gas engineer needs to complete an essential, and legally required, piece of documentation. Some tenants think that gas engineers are spies sent by landlords to carry out additional inspections!
If this still doesn't work, then you can apply to evict your tenant using a section 21 notice. If your last gas safety certificate has expired due to the tenant refusing entry, and you can demonstrate the tenant has a copy of the most recent check, the section 21 is still legally enforceable.
You also have the option of applying for an injunction from court.
Both the court injunction option and the section 21 option can be expensive, as well as mean you incur expenses advertising the property again in the near future, so we recommend trying whatever you can to get the tenant to allow access to the property so the gas safety inspection can be completed.
Even if you eventually get the inspection completed, you may still wish to make a decision on whether you want the tenant to continue living in your property anyway. If they're being difficult about something essential like a gas safety inspection, what else might they cause you a headache over?
Gas Safety for Landlords
Bottom line: you can't afford to mess around with gas safety matters. Ensure your annual gas safety check is completed along with the necessary maintenance, and you'll never have anything to worry about on this front, as well as being able to issue a section 21 if you ever need to, assuming you've met all your other landlord obligations, of course.
Safe, efficient, and correctly working gas appliances also mean your tenants' utility bills won't be any more than they need to be, ensuring that everyone's a winner!