How to Create Your Property Ad on Upad.co.uk
The first step to finding new tenants is creating your property ad. It's a simple process that shouldn't take more than 20 minutes.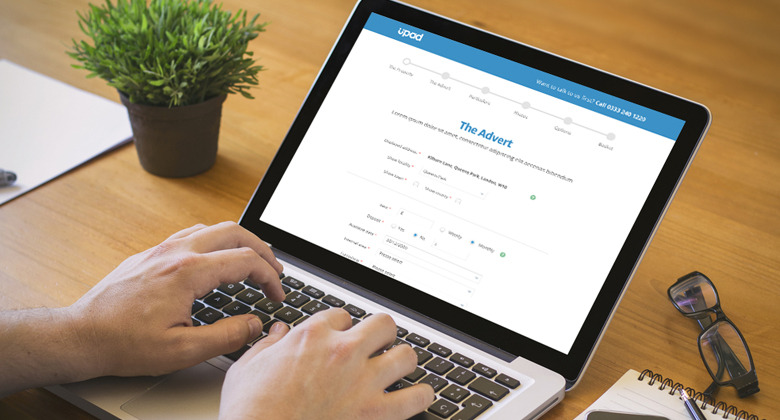 You can save a part completed ad and come back to it. If you think of something after the ad has gone online, you can always amend it. Plus you can use the same ad again, whenever you need to find new tenants.
Before you start, it's worth looking at some listings on Rightmove to see what makes a great ad; put yourself in the tenant's position and think about what would get your interest. If you do the same on Zoopla you can also see each property's page views to see which ones are the most popular.
Here's a step by step guide to creating your ad on Upad:
Firstly, choose the package that best suits your needs and click on BUY SERVICE to get started.
Section 1: Your Property
Who Owns This Property?
We ask this question because we only find tenants for private landlords, not for letting agents.
Property Address
Simply type in your postcode and add the house name or number.
Locality
This is your neighbourhood. If your property is in more than one of these you can choose the one that you feel best reflects its location.
"Town" and "County"
You can choose whether to show each of these in the address that will appear on Rightmove and Zoopla. "Advert Address" will show you how your address will be shown based on your choices.
Property Details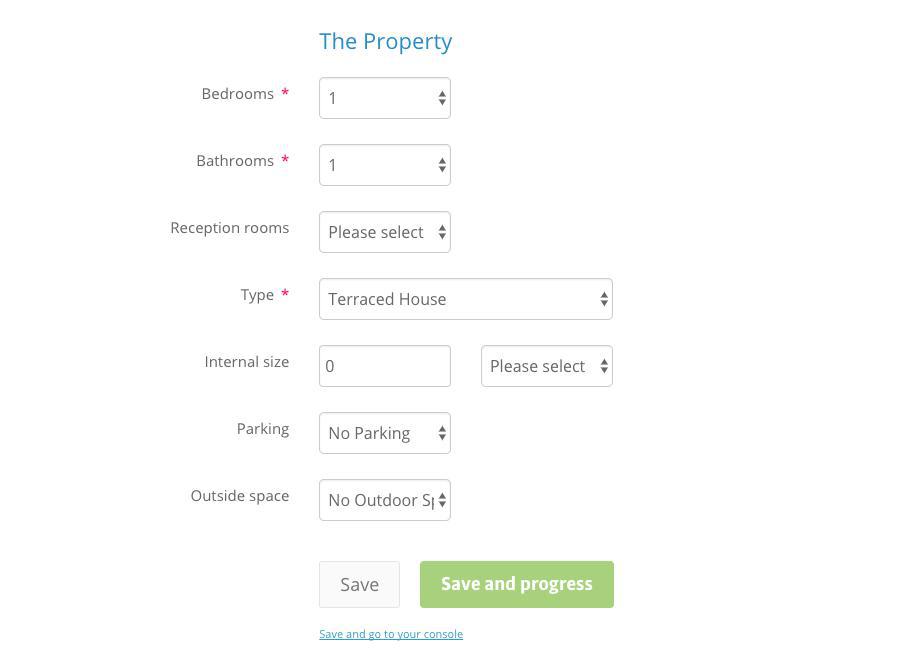 Type of Property
Property websites let tenants search by the type of property they are looking for. Pick the term that best describes yours.
Property Available From...
This is the date that tenants will first be able to move in. If your property is empty now, we recommend you choose a date a couple of weeks in the future. If tenants see a property with an available date in the past, it might cause concern about why it's empty.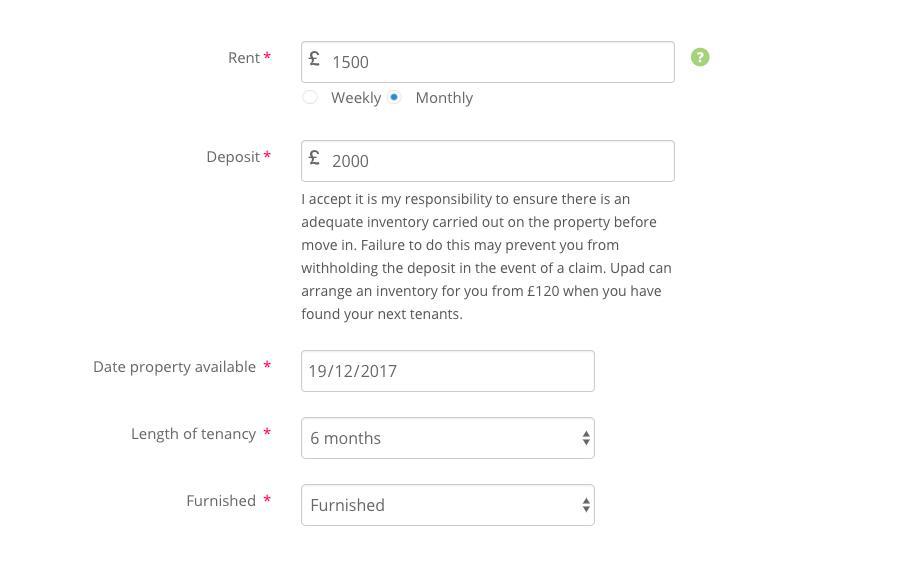 Length of Tenancy (min)
Usually a tenancy lasts for 12 months with the tenancy agreement (your contract with your tenants) reviewed after a year. However, you may be looking to let your property for a shorter (or longer) period of time.
Furnishing
Are you renting your property with a full set of furniture, a few pieces, or with no furniture?
Price
This is arguably the most important part of the process. Before deciding on what price to charge make sure you know the market; what are others charging for similar properties on Rightmove? How long have properties been listed on Zoopla and how many views have they had?You may think your place is extra special but this is simply about what people will pay for a certain type of property in your area. If your price is too high, tenants will simply ignore you and focus on other more competitively priced property.So don't be too greedy. By trying to get too high a price, you may miss out on a month or more of rent. How long will it take you to get that money back?Also be aware of the price bands on Rightmove and Zoopla. Where your price falls within these bands will affect where you rank in a tenant's search results. Try doing a search yourself to see where your property would appear.
Deposit
The standard deposit is one month's rent, paid in advance. You are free to charge more, but this is likely to put off some tenants (you may want to explain why in your description).
Featured Points
If you look at a rental property on Rightmove you will see a list of Key Features. People read bullet points far more than they read sentences and paragraphs so these are important. Compared to other property in your area, what makes your property special?We know that 90% of tenants prefer to have a direct relationship with the Landlord. Therefore, we've suggested pointing this out in first bullet point. You can have up to 10 bullet points but don't get carried away, 5 is usually enough!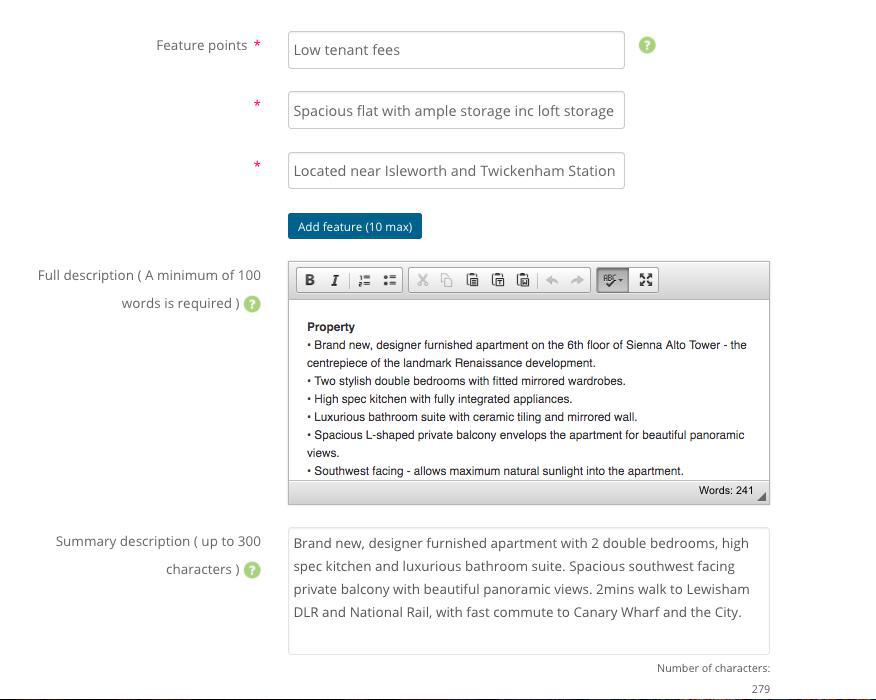 Summary Description - For Search Results
When a tenant gets their search results, they will see 4 things; the location, the price, the lead photo and the summary description. If each of these ticks their mental checklist they will click through to find out more about your property.You'll have plenty of time to talk about the details in a moment, here you just need to get across the most important things about your property. Remember the kind of tenants you are looking for and focus on what will be most important to them.
Full description
This is what the tenant will see when they click through. Now you can do your property justice! Include everything that would be useful to a tenant; the more boxes you tick for them, the more likely they are to want to see your property. This includes details of the rooms; information about the council tax; amenities; any extras like satellite TV or broadband.Once again, think about the kind of tenants you want to attract and make sure you include local details that are relevant to them. If it's perfect for families, talk about the proximity to local schools, what a friendly neighbourhood it is or how close by the park is. If you are looking for young professionals focus on the local nightlife and the proximity to transport links.Don't feel you have to emulate flowery estate agent phrases; tenants like simple, direct language as long as it puts your property in its best light. Don't be afraid to be explicit about the kind of tenants you want and any you wouldn't consider as it will save everyone's time. That's all the words you need to write. Now lets add some photos...
Section 2: Property Images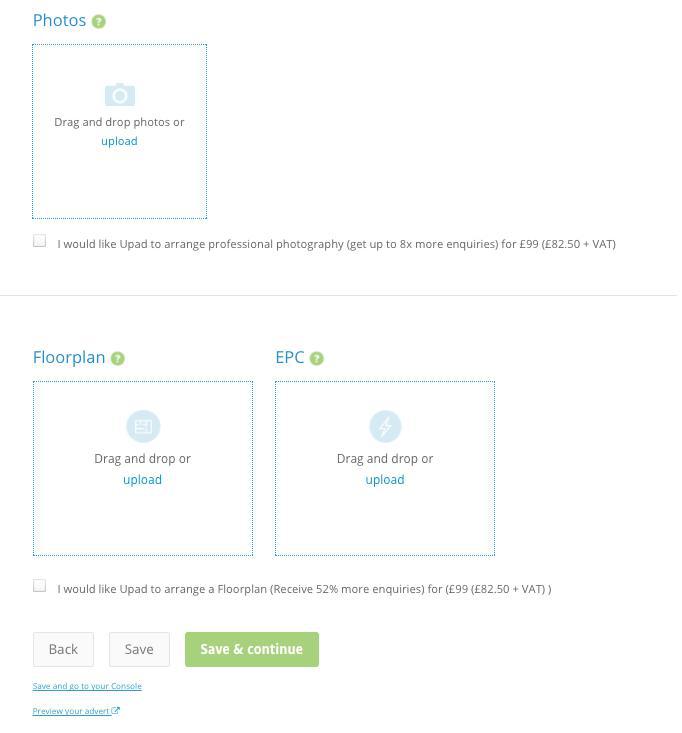 Good photography has always been essential for gaining interest in your property. However, the premium screens of smartphones and tablets have made high quality shots more important than ever. For just £99 (£82.50 + VAT) Upad can arrange for a professional photographer to take a set of high quality shots. You'll get to keep them forever and they may be the difference in attracting that perfect tenant. If you're uploading your own photos, simply click on the button and choose the files from your smartphone, computer or tablet. You will see your photos appear below the link. The first photo in the list will be the one tenants see in their search results. Unlike buyers, tenants are more likely to click on an interior shot of the property, say the kitchen or the living room. This is because they want to visualise living in the property more than judging how it looks to others.You can upload up to 40 photos, but unless you're renting out a manor house, between 8 and 12 is the optimum amount. Make sure you have at least one of every room, plus any outside areas and a shot of the exterior. If you have a floor plan you should also add this here.Once you've finished uploading, click on "SAVE AND CONTINUE".
Note that photos must be uploaded as JPEG or JPG format with a maximum file size of 3MB. Floor plans can be uploaded as JPEG, JPG or PDF format with a maximum size file of 3MB.

Section 3: Your Property Listing
You can now see a preview of how your property will be presented in the search results and as a full listing for those that click through.You can choose to go back and edit any of the details or move on to the final section.
Section 4: Additional Information
Now we finish things off by asking a few quick questions.
What Contact Details Do You Want to Give to Tenants?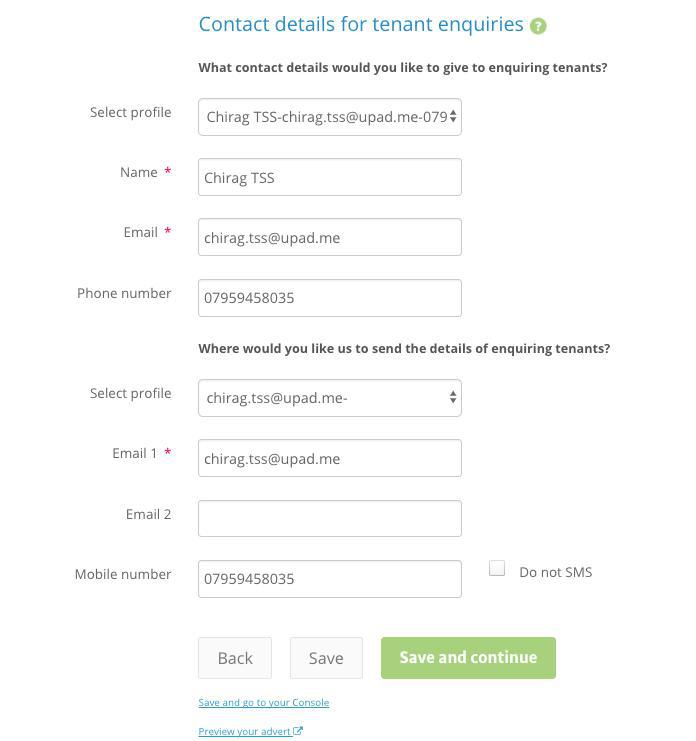 This is the information we will email and text to the tenant when they enquire about your property. This section is pre-filled with your registration information, but you may want to supply a separate name, email address and/or phone number. If this is the case, choose "create a new set of contact information" from the drop down menu.
Where Shall We Send Tenant Details?
When a tenant enquires we can let you know via email and text message. You can change the email address we send these to, add a second email address to receive enquiries, change the mobile or choose not to receive text messages.
How Will You Obtain an EPC?
An Energy Performance Certificate gives tenants a guide on how energy efficient your property is and, therefore, what their gas and electic bills might be. It's a legal requirement to show the certificate when you advertise the property. Upad can arrange an EPC for just £99 (£82.50 + VAT) . An EPC lasts for 10 years.
How will you obtain a Gas Safety Certificate?
Proving your property is gas safe (if it uses gas) is also a legal requirement. A Gas Safety Check has to be carried out every 12 months. Upad can arrange this for £99 (£82.50 + VAT) .
Additional Services
Rightmove and Zoopla Premium Listings
If you look through a set of search results on Rightmove or Zoopla, you may notice some have more photos and stand out on the page more than the rest. These are called Premium Listings. Those properties on Rightmove which have a Premium Listing see an average increase of detailed views of 33%. If your property is in a competitive market this could make all the difference.
Rightmove Featured Listings
Beat your competition by remaining at the top of the listings page with a Featured Listing. A Rightmove Featured Listing is proven to get up to 128% more property advert clicks from tenants. With more photos and prime time spot at the top of Rightmove for 7 days, you'll be able to let your property quicker.
Tenant Sign Up Service
If you'd rather let us take care of the paperwork needed to start the tenancy then this is for you. By combining a tailored tenancy agreement, a standing order mandate for the rent and registering the deposit we can remove the hassle of making sure everything's in place.
Learn more about our Tenant Sign Up Service.
Rent Protection
If your tenant stops paying for whatever reason, Rent Protection will step in until everything is resolved. It also covers legal expenses up to £50,000.
About Your Fees
We're proud that we don't charge tenants ridiculous fees; just £75 (£62.50 + VAT) each to be comprehensively referenced. However, the problem of hidden fees charged by agents has led to new guidelines for advertising property. If you are planning to charge your tenants for other services (such as inventory checks) we have to show these fees in the ad itself.If you're not sure whether you will reference your prospective tenants, keep the box "I may use Upad to comprehensively reference my tenants" ticked, just so you're covered.You can see what the wording displayed in your ad will be by clicking on the link in this section.
All done.
That's it. Now all you need to do is check out. Remember if you've got any questions about your ad, you can give the Landlord Team a call on 0333 240 1220 (8am-8pm weekdays and 9am-4pm at weekends).
What happens next?
Once you've checked out, a member of the Upad team will manually check your property ad. If there are any major issues we will contact you to discuss them. If you have ordered professional photography, a floor plan, inventories, an EPC or Gas Safety Certificate, we'll be in touch to arrange an appointment.
Otherwise, we will supply your ad to Rightmove, Zoopla, PrimeLocation and hundreds of local property sites.
When your ad is live on Zoopla and Rightmove we will send you an email to let you know. You can then expect to start receiving emails and texts from interested tenants.
Find out more about what to do when you receive an enquiry